Where am I? January 2023 edition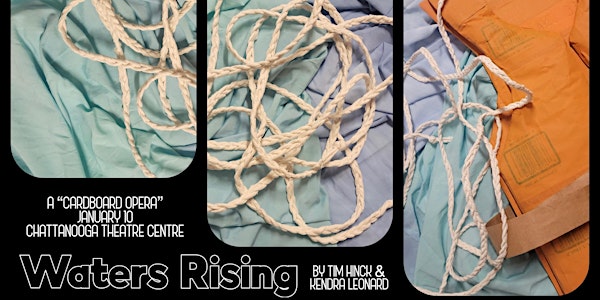 My January is off to a fast start. Here's where I'll be and what I'll be doing.
First, I'm headed to Chattanooga, TN for the premieres of Waters Rising, my new opera with composer Tim Hinck, commissioned by Arts Capacity. Created in collaboration with the inmates of Walker State Walker State Faith and Character Based Prison in northwest Georgia and Chattanooga's Hunter Museum of American Art, Waters Rising is a short opera depicting the journey of change one man undergoes, assisted by a caring mentor and members of the community. The opera, which features singers Del'Shawn Taylor from Denver and Chattanooga local Darrin James Hassevoort, premieres at the prison, with inmates as part of the chorus and crew, on January 9, and a public premiere follows on January 10 at the Chattanoooga Theatre Center. You can still get tickets for the public performance here.
Next, I'm teaching a writing workshop on Zoom through Writespace Houston on Saturday, January 14. All genres are welcome—from non-fiction, to poetry, to speculative fiction, to memoir—or explore a different genre in each prompt! Over the course of this three-hour workshop, we'll talk about where our writing is and where we want it to go, what our writing dreams are, and what it means to practice writing. We'll use several ideas for writing exercises from Natalie Goldberg's classic Writing Down the Bones to get reaccustomed to writing without self-censoring, to encourage writing with intent, and to have fun writing playfully. We'll share our in-workshop writing and talk about presenting new work with confidence. Writers can be of any experience level; feel free to bring works already in progress or simply come ready to renew your love of writing in a supportive, affirmative environment where all creativity is valued and celebrated. You can get tickets here.
On January 16, I'm hosting a silent writing session on Zoom from 2-3:30 Central, also through Writespace Houston. We'll meet and set goals for our 90-minute writing block, then turn off our audio and leave our cameras on as we write together. This is free for members, and $5 for non-members; tickets here.
In late January, I'll be in Philadelphia for the rehearsals and premiere of my new short opera Neither Created Nor Destroyed with composer Jessica Rudman, commissioned by ENAensemble. Meet the cosmic clouds who are giving birth to new stars in this lyrical mashup of star formation and TV's Call the Midwife. Performances are free and take place on January 25 at noon Eastern at the Charles Library Event Space at Temple University and at 5:30 pm Eastern in the Music Department of the Free Library on Central Parkway.
On January 28, I'm teaching Poetry in the Palm of Your Hand on writing short poetry through Writespace Houston. We'll talk about using limited forms like haiku to help us be more creative, and how to create an entire scene or mood in just one short stanza. We'll find inspiration in everyday objects, tell stories in short works, and explore rhyme, meter, and free verse. Writers of all levels are welcome. Tickets here.
Finally, I'll wrap up January by hosting another silent writing session on January 30; tickets for that one here.
Phew! And so you can plan ahead, mark your calendars for February 11, when Felling, my new art song cycle about deforestation and climate change with music by Keane Southard will be premiered as part of the FUSE festival in Boston at 7:30 pm Eastern the Longy School of Music by singer Daniel Laverriere and pianist Brendon Shapiro. Tickets are already available here.
As always, I'll be blogging and posting book reviews on my site here, and you can find me on Mastodon as @kendraleonard@hcommons.social.
May 2023 be a year full of good health (wear a mask, please–this immunocompromised writer begs you!) and good music and good friends and joy and wonder. Here are Noodles and Wisp, wishing your critters happy new year also.